Rock Mountain Sporting Clays is a shotgunner's paradise. It is considered to be one of the premier courses on the East Coast. Rock Mountain has hosted such varied events as the Northern Side by Side Challenge and Expo, NSCA Zone II Championship, the Pennsylvania State Championship, NSCA-Registered Tournaments, SCTP State Championship, The Royal Order of Edwardian Vintagers Weekend, corporate events, bachelor parties, family reunions, fun shoots, a fabulous wedding reception in our pavilion, and numerous fund raisers.
PLEASE SEE THE "EVENTS" PAGE FOR ANY COURSE CLOSINGS DUE TO SPECIAL EVENTS.
CONGRATULATIONS TO DAVID DEFERNELMONT

2021 CLUB CHAMPION
AND TO ABBY FRISCH, LADY CHAMPION
FOR THE NEAR FUTURE, AMMO PURCHASED FROM OUR INVENTORY AT ROCK MOUNTAIN WILL BE FOR USE AT ROCK MOUNTAIN.
IMPORTANT UPDATE FOR ALL fHING FROM CLAYBIRDS TO EQUIPMENT, FUEL, ETC, WE MUST RAISE OUR ANNUAL MEMBERSHIP FEE AND THE NON-MEMBER FEE PER TARGET AS OF JANUARY 1, 2022. WE HAVEN'T RAISED OUR TARGET FEES FOR ALMOST 10 YEARS AND MEMBERSHIP FEE FOR FIVE YEARS.
NEW RATES
Round of 100 - $30 for members (no increase)
Round of 100 - $45 for non-members
Annual dues - $75
Annual Family dues - $100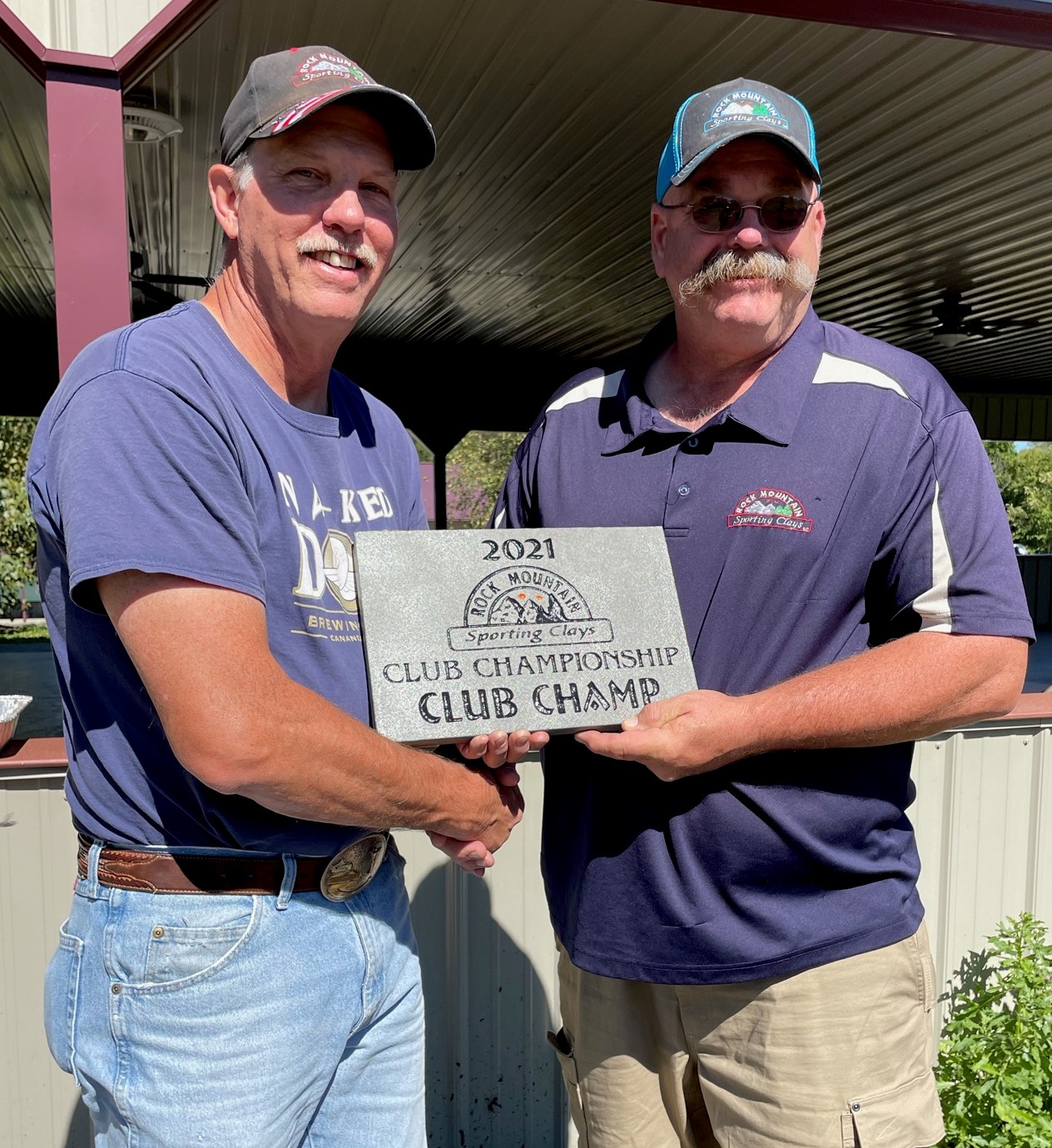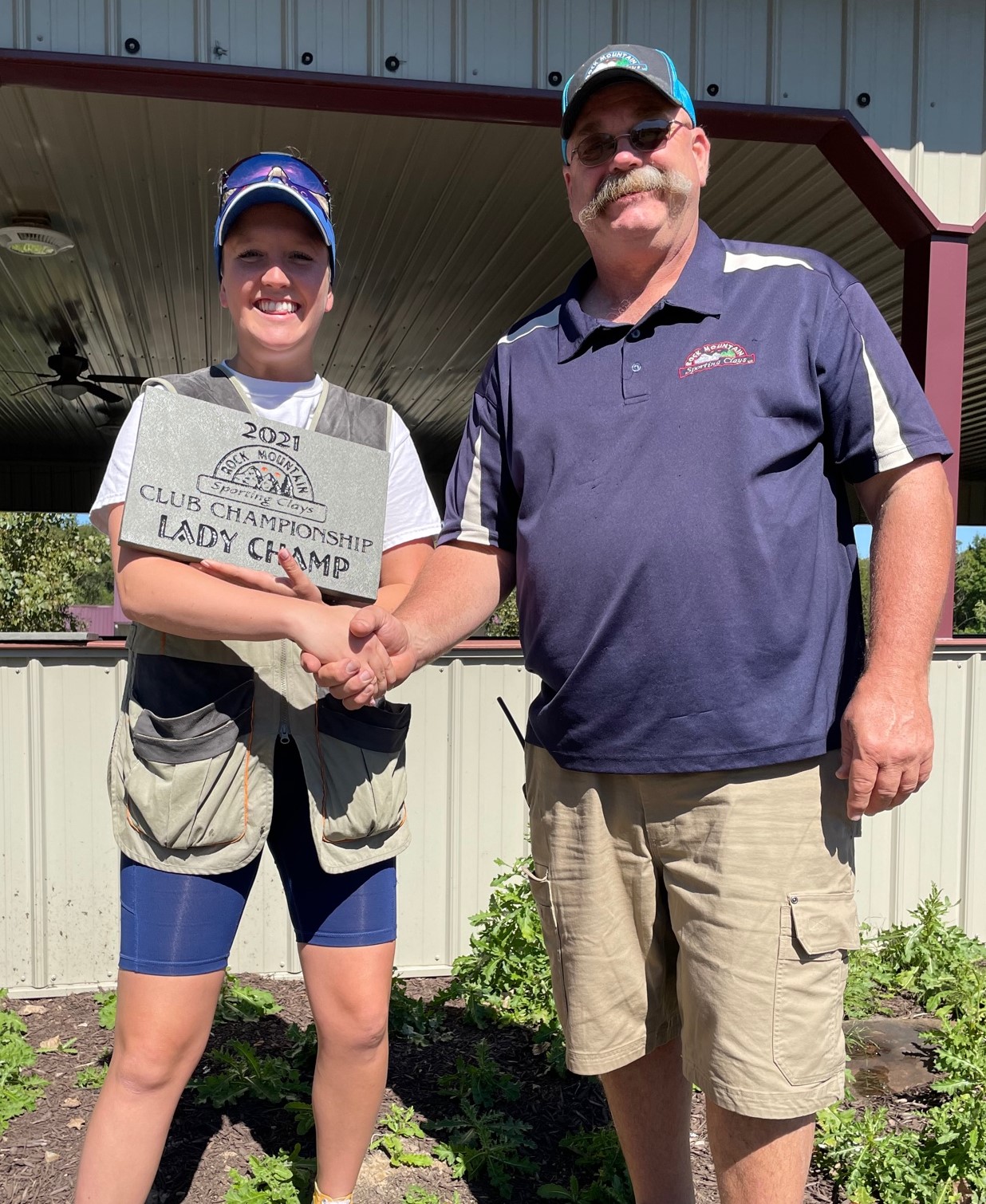 2021 CLUB CHAMP DAVID DEFERNELMONT
2021 LADY CHAMP ABBY FRISCH
THE 2021 CLUB CHAMPS! CONGRATULATIONS!!
WITH THE HOLIDAYS APPROACHING, WE WANT TO INFORM YOU OF SOME DATES WE WILL BE CLOSING EARLY OR CLOSED FOR THE DAY
WE WILL BE CLOSED ON THANKSGIVING. WE WILL BE CLOSED ON SATURDAY, 11/27 FOR THE OPENING DAY OF DEER RIFLE SEASON. WE WILL BE CLOSING ON CHRISTMAS EVE DAY AT 12:30. YOU MUST BE OFF THE COURSE BY 12:30. WE WILL BE CLOSED ON CHRISTMAS DAY.
THANK YOU, HAVE A HAPPY THANKSGIVING AND A MERRY CHRISTMAS.